Chapter nine of "The Data Detective" / "How To Make The World Add Up" is all about data visualisation – its power, and its pitfalls. The overarching story is about how one woman launched a public health revolution, armed with a fancy pie chart.
I'm fond of the chapter – but how does it look to audiobook listeners? Ah. Obviously the pictures in the audiobook are… well, nonexistent.
So here are links to the graphics in question.
First, Nigel Holmes's famous – infamous? – graphic, 'Diamonds were a girl's best friend', produced for Time magazine in 1982 and still debated among dataviz geeks today.
The New Yorker's 'subway inequality' project is interactive and much better viewed on their site.
Andy Cotgreave's compare-and-contrast exercise with Simon Scarr's award-winning 'Iraq's Blood Toll' is here as a thumbnail – but go and examine the graphs up close.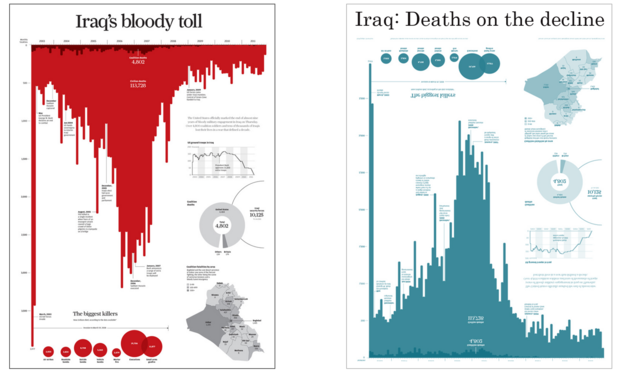 Florence Nightingale's most famous rose diagram – and Hugh Small's striking replotting of the same data – are best viewed alongside Small's discussion.
My new book, "The Data Detective" was published in the US/Canada on 2nd February.
"Nobody makes the statistics of everyday life more fascinating and enjoyable than Tim Harford."- Bill Bryson
"This entertaining, engrossing book about the power of numbers, logic and genuine curiosity"- Maria Konnikova
I've set up a storefront on Bookshop in the United States and the United Kingdom – have a look and see all my recommendations; Bookshop is set up to support local independent retailers.